There are A LOT of forms (also called patterns, and in Korean hyeong, teul, or pumsae) in Taekwondo. I write about them a lot in the books that I've done and on this website. It can be difficult to remember what they all are, so here's a big list of all of the forms (that I know about) in every style of Taekwondo (although without duplicates that appear in multiple styles of Taekwondo).
Kwan Era Taekwondo (and modern Tangsudo)
Pyeong-an

Pyeong-an Chodan
Pyeong-an Idan
Pyeong-an Samdan
Pyeong-an Sadan
Pyeong-an Odan

Balsae
Yeonbi, Wansu
Myeonggyeong, Rohak
Gwan-gong, Gongsanggun
Cheolgi

Cheolgi Chodan
Cheolgi Idan
Cheolgi Samdan

Shipsu
Banwol, Shipsam
Ja-eun
Amhak
Taegeuk

Taegeuk Chodan
Taegeuk Idan
Taegeuk Samdan
Changheon-yu Taekwondo
Cheonji
Dan-gun
Dosan
Wonhyo
Yulgok
Junggeun
Toigye
Hwarang
Chungmu
Gwanggae
Po-eun
Gyebaek
Godang
Juche
Uiam
Chungjang
Samil
Yushin
Choiyeong
Yeon-gae
Eulji
Munmu
Seosan
Sejong
Tong-il
As well as Unam if you consider it to be a separate form to Chungjang.
Jukam-yu Taekwondo
Jisang
Dan-gun
Jigu
Jugam
Pyeonghwa
Seondeok
Kukki-won Taekwondo
Palgwae

Palgwae Il Jang
Palgwae I Jang
Palgwae Sam Jang
Palgwae Sa Jang
Palgwae O Jang
Palgwae Yuk Jang
Palgwae Chil Jang
Palgwae Pal Jang

Taegeuk

Taegeuk Il Jang
Taegeuk I Jang
Taegeuk Sam Jang
Taegeuk Sa Jang
Taegeuk O Jang
Taegeuk Yuk Jang
Taegeuk Chil Jang
Taegeuk Pal Jang

Original Koryeo
Koryeo
Keumgang
Taebaek
Pyeong-won
Shipjin
Jitae
Cheon-gwon
Hansu
Iryeo
Competition Forms

Hallyu (never finalised)
Bigak (an early form that is distinct from the other form called Bigak; never finalised)
Himchari
Yamang
Saebyeol
Nareusya
Bigak
Eoullim
Saeara
Hansol
Narae
Onnuri
Cheongdo-kwan Taekwondo
Gungmu

Gungmu Chodan
Gungmu Idan
Gungmu Samdan
Gungmu Sadan
Gungmu Odan
Mudeok-kwan Tangsudo
Mudeok-kwan doesn't call itself 'Taekwondo', but it does come from Kwan-Era Korea, and is related to Taekwondo, so I'm including these here.
Chilseong

Chilseong Illo
Chilseong Iro
Chilseong Samno
Chilseong Saro
Chilseong Oro
Chilseong Yungno
Chilseong Chillo

Yungno

Yungno Chodan
Yungno Idan
Yungno Samdan
Yungno Sadan
Yungno Odan
Yungno Yukdan

Dumun
Jungjeol
Powol
Yangpyeon
Salchu
Chungno
Hwasun
That makes 114!
Want to learn more?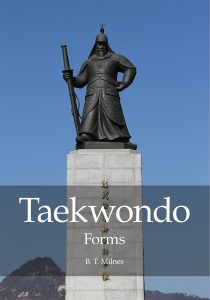 If you'd like to learn more about the forms / patterns in Taekwondo, consider buying this book: Taekwondo Forms. It lists the movements and gives the floor diagrams and interpretations for 71 forms from four different styles of Taekwondo - it's the ultimate reference book for anyone studying forms in detail.