In Korean, a Taekwondo uniform is called a 도복 dobok.
---
도복 dobok literally means clothing of the way – the 'way' being Taekwondo. 도 do means 'way' and 복 bok means 'clothing'.
A dobok is normally white – though they are sometimes other colours – and made of a heavyweight cotton fabric.
Many Taekwondo practitioners call their Taekwondo uniform a dobok when speaking in English, as it's less effort to say than 'Taekwondo uniform'.
What should you not say?
Do not call your Taekwondo uniform a gi or dogi. These are Japanese terms used in Karate to describe a Karate uniform. Karate uniforms and Taekwondo uniforms, though they look similar, differ in their design in a number of key ways.
Similarly, do not call a Taekwondo uniform a keikogi – this is also a Japanese term.
Get some Taekwondo merch!
Want to learn more?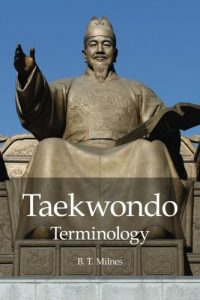 If you'd like to learn more about the Korean terminology used in Taekwondo, consider buying this book: Taekwondo Terminology. It contains an extensive dictionary of terms used in Taekwondo, as well as explanations on how to pronounce Korean words, and aspects of Korean grammar.
Recommended Books
← Back to Taekwondo FAQs