It depends on which Taekwondo organisation you train with, but the minimum length of time it takes to achieve black belt in Taekwondo is typically 2 to 5 years.
---
Taekwondo associations will typically set a minimum length of time that has to pass or a minimum amount of training that must be completed between the levels of colour belt and black belt. Typically, the length of time that has to pass between one level of colour belt and another is a few months – often between 2 and 6 months.
You should be wary of any organisation allowing progression to black belt in less than 2 years.
You should also be wary of any organisation or instructor that guarantees progression to black belt in return for a fee.
The general consensus among Taekwondo practitioners is that it doesn't matter how quickly you get to black belt – what matters is the quality of your training and how much dedication you put into it.
Get some Taekwondo merch!
More information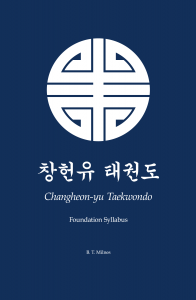 You can find more information on this topic in the book Changheon-yu Taekwondo: Foundation Syllabus, which is a handbook for colour belt students who are training in Changheon-yu Taekwondo (ITF Taekwondo). It contains movement descriptions, floor diagrams, and relevant Korean terminology for all of the colour belt patterns.
Recommended Books
← Back to Taekwondo FAQs