The order of the belt colours in Taekwondo depends on which Taekwondo organisation you're training in, but the most common order is: white, yellow, green, blue, red, black.
---
Some organisations have fewer or more colours, or different colours. Sometimes a brown belt is used instead of a red belt, and sometimes an orange belt is used instead of a yellow belt.
Many organisations have belts in between these solid colour belts. For example: a yellow belt with a green stripe, or a green belt with a blue stripe, where the stripe is either a single line of colour running along the length of the belt, or a line running around one or both of the ends of the belt. Thus, the order of the belts in such organisations is: white belt, white belt with a yellow stripe, yellow belt, yellow belt with a green stripe, green belt, green belt with a blue stripe, et c.
In Kukki-won Taekwondo, there is a 품 poom belt, which is half red and half black. The poom grade and belt are given to young students who are not yet old enough to be promoted to black belt.
The order of the belts has been different historically. In a textbook written by Choi Hong-hi and published in 1966 for the Republic of Korea's army, the order of the belts is given as white, blue, purple, black.
Related questions
Get some Taekwondo merch!
Want to learn more?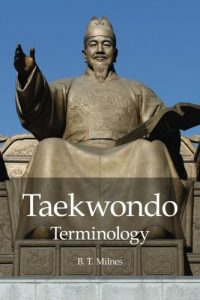 If you'd like to learn more about the Korean terminology used in Taekwondo, consider buying this book: Taekwondo Terminology. It contains an extensive dictionary of terms used in Taekwondo, as well as explanations on how to pronounce Korean words, and aspects of Korean grammar.
Recommended Books
← Back to Taekwondo FAQs