This page lists Hwang's publications. It will be edited and updated over time; thus, at the moment it may not be complete.
Bibliography
黄琦, 唐手道教本 (1958 C.E.) (契郎文化社) No ISBN
in hangeul: 황기, 당수도교본 (1958 C.E.)
romanised: hwang gi, dangsudo gyobon
translated: Hwang Ki, Tangsudo Textbook
Hwang Ki's 1958 Tangsudo Textbook is one of the first textbooks to be written specifically on Tangsudo (the Korean variant of Karate). Although Hwang's style of martial arts is still called Tangsudo to this day, its development is very much linked to the development of Taekwondo – Mudeok-kwan was one of the Nine Kwans. Thus, it could be argued that this is the very first book on Taekwondo – beating Choi's 1959 Taekwondo Textbook by one year.
A copy of the textbook is held by the University of Hawaii in Manoa, and has been scanned and made available to download as a PDF from the university library's website here: http://evols.library.manoa.hawaii.edu/handle/10524/1073
---
Hwang Ki and H. C. Hwang wrote a series of four instructional guides for colour belts, published in 1993. The books are relatively short, but nowadays they are quite rare, and so quite expensive to buy, but it is still possible to buy copies of these books on Amazon and eBay.
---
Hwang Kee and H. C. Hwang, Tang Soo Do Soo Bahk Do Moo Duk Kwan; White Belt Instructional Guide (1993) (Springfield, New Jersey, United States) ISBN 0963135821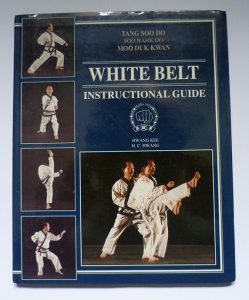 Links to where you can buy a copy:
---
Hwang Kee and H. C. Hwang, Tang Soo Do Soo Bahk Do Moo Duk Kwan; Orange Belt Instructional Guide (1993) (Springfield, New Jersey, United States) ISBN 096313583X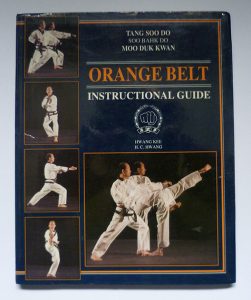 Links to where you can buy a copy:
---
Hwang Kee and H. C. Hwang, Tang Soo Do Soo Bahk Do Moo Duk Kwan; Green Belt Instructional Guide (1993) (Springfield, New Jersey, United States) ISBN 0963135848
Links to where you can buy a copy:
---
Hwang Kee and H. C. Hwang, Tang Soo Do Soo Bahk Do Moo Duk Kwan; Red Belt Instructional Guide (1993) (Springfield, New Jersey, United States)
Links to where you can buy a copy:
See also