Depending on the style of Taekwondo, Taekwondo students will practise different sets of forms.
Students of Changheon-yu Taekwondo (often called 'ITF Taekwondo') learn a set of 24 forms, which are:
Toigye
Hwarang
Chungmu
Kwanggae
Po-un
Kyebaek
Kodang or Juche
Uiam
Chungjang
Samil
Yushin
Choiyong
Yon-gae
Ulji
Munmu
Sosan
Sejong
Tong-il
Students of Kukki-won Taekwondo (often called 'WTF Taekwondo') learn 17 forms:
The Taeguk series of forms

Taeguk Iljang
Taeguk Ijang
Taeguk Samjang
Taeguk Sajang
Taeguk Ojang
Taeguk Yukjang
Taeguk Chiljang
Taeguk Paljang

Koryo
Kumgang
Taebaek
Pyong-won
Shipjin
Jitae
Chon-gwon
Hansu
Iryo
Some Kukki-won Taekwondo students will learn a series of eight forms known as the Palgwae forms instead of the Taeguk forms.
Get some Taekwondo merch!
Want to learn more?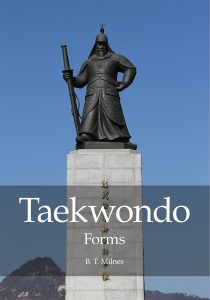 If you'd like to learn more about the forms / patterns in Taekwondo, consider buying this book: Taekwondo Forms. It lists the movements and gives the floor diagrams and interpretations for 71 forms from four different styles of Taekwondo - it's the ultimate reference book for anyone studying forms in detail.
Recommended Books
← Back to Taekwondo FAQs