Yes, 'Taekwondo' is one word.
---
The Korean for Taekwondo is 태권도, which is one word in Korean, even though each syllable has a distinct meaning.
태 tae means 'to kick' or 'foot', 권 kwon means 'fist' or 'to punch', and 도 do means 'way'. Thus, each syllable has its own meaning, but 태권도 is one word meaning 'the way of the foot and the fist' or 'the way of kicking and punching'.
However, there are different opinions on how the word should be written in English. Taekwondo practitioners of different styles prefer different writings. Kukki-won Taekwondo practitioners generally prefer writing it as 'Taekwondo', whereas Changheon-yu Taekwondo practitioners generally prefer writing it as 'Taekwon-Do'. See this blog post for my opinion on how it should be written and why.
Get some Taekwondo merch!
Want to learn more?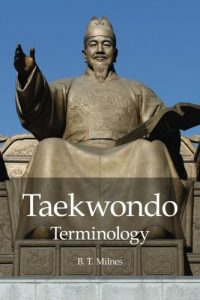 If you'd like to learn more about the Korean terminology used in Taekwondo, consider buying this book: Taekwondo Terminology. It contains an extensive dictionary of terms used in Taekwondo, as well as explanations on how to pronounce Korean words, and aspects of Korean grammar.
Recommended Books
← Back to Taekwondo FAQs