Chungmu (very often spelled Choong-moo) was the name given to the great naval commander Yi Sun-shin by the royal court of Joson following his death.
---
Yi Sun-shin is famed for his victories against the Japanese army during the Imjin War, and is also greatly revered for his improvements upon the design of the armoured ship Kobukson. He died at the Battle of Noryang from a single stray bullet.
Yi Sun-shin is admired as a national hero in Korea today.
Related questions
More information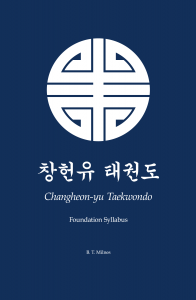 You can find more information on this topic in the book Changheon-yu Taekwondo: Foundation Syllabus, which is a handbook for colour belt students who are training in Changheon-yu Taekwondo (ITF Taekwondo). It contains movement descriptions, floor diagrams, and relevant Korean terminology for all of the colour belt patterns.
Recommended Books
← Back to Taekwondo FAQs