In Taekwondo, a senior student is called 선배 sonbae in Korean.
---
선배 sonbae is pronounced 'sonn-bay' and not 'sun-bay' or 'sonn-bai' or 'sonn-bee'.
The term can be used to refer to anyone who is a senior grade to you – i.e., if you're a green belt, sonbae can be used to refer to a red belt. It can also be used to refer to anyone who is a high colour belt grade – generally blue belt and above. It can also be used to refer to the most senior student in the class.
When speaking to the senior student directly, add the suffix 님 nim (pronounced 'neem'). For example: 'Sonbae-nim, can you teach me the form Dosan?' 님 nim is an honorific suffix added to titles.
What should you not say?
Do not call a senior student senpai. This is a Japanese term that's used in Karate, but not in Taekwondo.
Get some Taekwondo merch!
Want to learn more?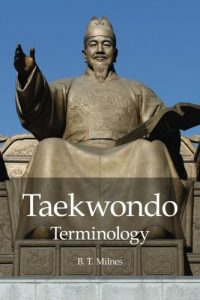 If you'd like to learn more about the Korean terminology used in Taekwondo, consider buying this book: Taekwondo Terminology. It contains an extensive dictionary of terms used in Taekwondo, as well as explanations on how to pronounce Korean words, and aspects of Korean grammar.
Recommended Books
← Back to Taekwondo FAQs